HUBUNGAN LAMA MENONTON TELEVISI DENGAN KETERATURAN JADWAL MAKAN ANAK KELAS V DI SDN 173318 KECAMATAN PARANGINAN KABUPATEN HUMBANG HASUNDUTAN
Keywords:
length of watching, the regular schedule of meals, fifth grade children
Abstract
Duration is the length of time watching something takes place or span of time. So what is meant by the duration of watching television is the length of watching television. Television can have an effect on influencing the nutritional status of children. The regularity of eating is closely related to mealtime every day. Naturally, food is processed in the body through digestive devices starting from the mouth to the small intestine. This study uses a correlation design with a cross sectional approach that is linking/analyzing between variables that aims to determine the relationship of watching television with regularity to the schedule of eating grade V children at SDN 173318 in Paranginan sub-district Humbang Hasundutan district in 2018. This instrument uses a questionnaire sheet. The aim of the study was to find out the relationship between the length of watching television and the regular schedule of meals for fifth grade children in SDN 1733318 in Paranginan Sub-District, Humbang Hasundutan District. Based on the results of the study, it was shown that the majority of watching television was in the frequent category of 19 people (54.3%), and the eating schedule regularity was mostly in the irregular category of 22 people (62.9%). Chi Square test results (Pearson chi square) obtained a value of p = 0.003 (p <0.05), meaning that Ho is rejected and Ha is accepted. This shows that there is a relationship between the length of watching television and the regularity of the schedule for eating fifth grade children.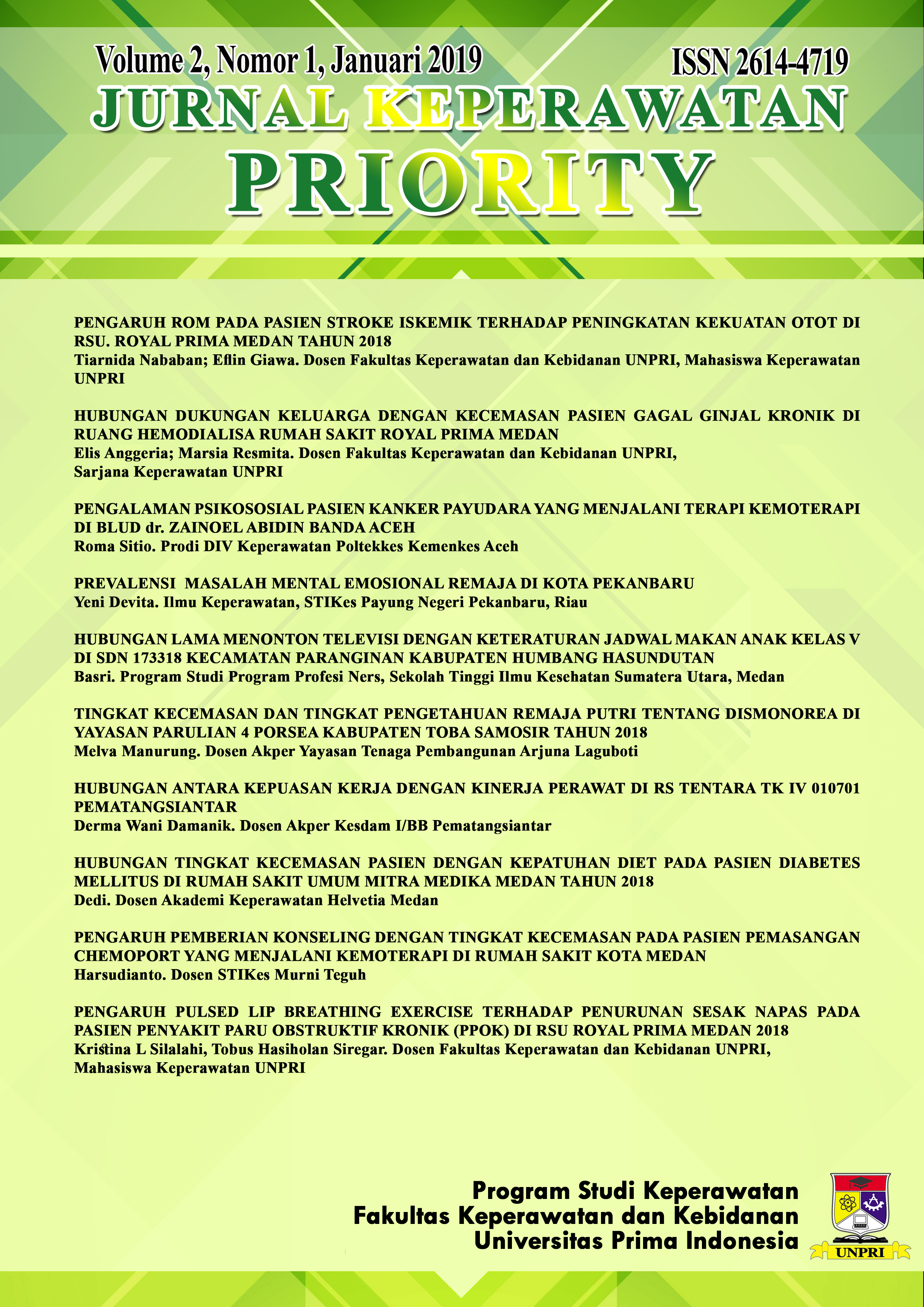 Downloads