PENGALAMAN PRESEPTOR DALAM MELAKSANAKAN PRECEPTORSHIP DI RUMAH SAKIT SAINT ELISABETH KOTA MEDAN 2018
Keywords:
experience, preceptor, preceptorship program
Abstract
Preceptorship is a teaching and learning method to university students by involving nurses as the role model. The objective of preceptorship program in learning is to build the students' role and responsibility to be professional nurses with wide knowledge. The major aim of this research was to study further preceptor's experience in conducting preceptorship program in the hospitals in Medan. This is a descriptive phenomenological study. Questionnaires with demographic characteristics and guided interviews were used as the research instruments. The data were collected through in-depth interview and by using field-note. Purposive sampling technique was employed to select the participants who met the inclusion criteria. The participants consist of 10 preceptors in Santa Elisabeth Hospital, Medan. The descriptions of the preceptors' experience were analyzed by using Colaizzi approach. The results found out 5 themes reflecting the studied phenomena. The themes were maximally preparing themselves before conducting preceptorship program, the preceptors', responsibilities in conducting counseling process, unpleasant experience during the student counseling, the preceptors' expectation to the corrective process in the preceptorship counseling, and the preceptors are the students' role model during the practice. According to the research results, it is suggested that nursing education is committed to follow the policies, standards, procedures, and regulations set forth in the guidebook, for nursing services to facilitate the preceptor by improving the knowledge of the preceptorship program up to date, and It is also expected that this nursing research can become the evidence-based data for the facility improvement to the future researchers.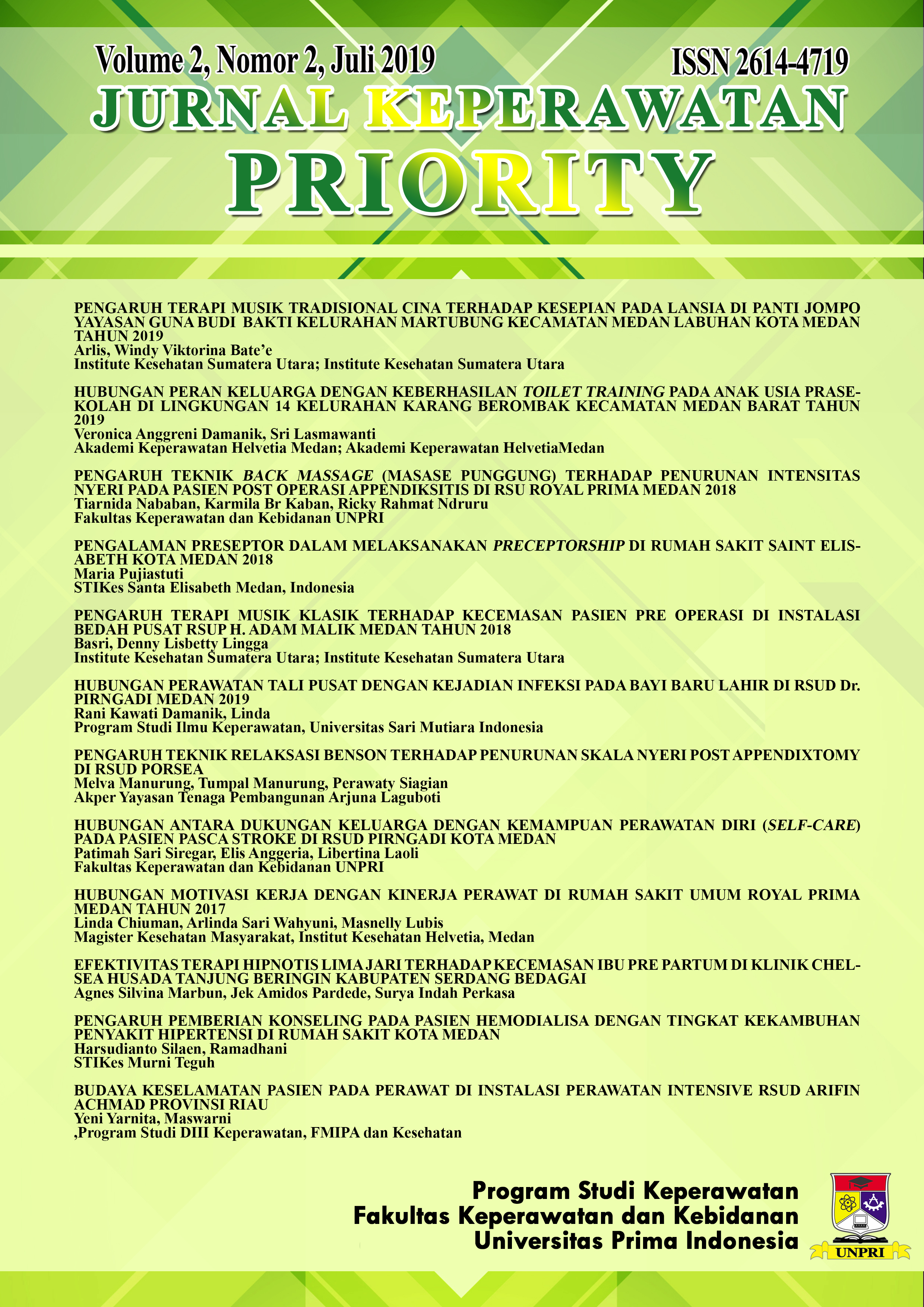 Downloads
How to Cite
Pujiastuti, M. (2019). PENGALAMAN PRESEPTOR DALAM MELAKSANAKAN PRECEPTORSHIP DI RUMAH SAKIT SAINT ELISABETH KOTA MEDAN 2018. Jurnal Keperawatan Priority, 2(2), 33 - 40. https://doi.org/10.34012/jukep.v2i2.567