HUBUNGAN PERAN KELUARGA DENGAN KEBERHASILAN TOILET TRAINING PADA ANAK USIA PRASEKOLAH DI LINGKUNGAN 14 KELURAHAN KARANG BEROMBAK KECAMATAN MEDAN BARAT TAHUN 2019
Keywords:
Family role, successful toilet training
Abstract
Toilet training in children is an attempt to train children to be able to control in the urine and defecate. According to data in Indonesia the number of toddlers reaches 250 million people. The number of children under five who are difficult to control chapter and BAK at preschool age reaches 75 million children. The purpose of this research is to know the relation of family role to the success of toilet taining at preschool age children in Neighborhood 14 KarangBeromakSubdistrict, West Medan Sub-District Year 2019. This research used analytic survey research design with cross sectional approach. The population in this study was all families who have preschool children who numbered 32 people and the sample in this study used the total population of 32 respondents. Data analysis used univariate analysis and bivariate analysis with chi-square test. Based on the result of 32 respondents 6 (18,8%) family role less 5 (15,6%) unsuccessful and 1 (3,1%) that succeed. While 26 out of 26 (81,3%) good family roles 6 (18,8%) unsuccessful and 20 (62,5%) succeed. After chi-square test p value (0,011) <α (0,05). The conclusion of this research is the relation of family role to the success of toilet training in preschool children in Environment 14 KarangBerombak Village, West Medan District. It is advisable to mothers with children of ages to teach children to do toilet training with affection and sympathy, always advise well and support and give praise for its success, avoid violence and anger.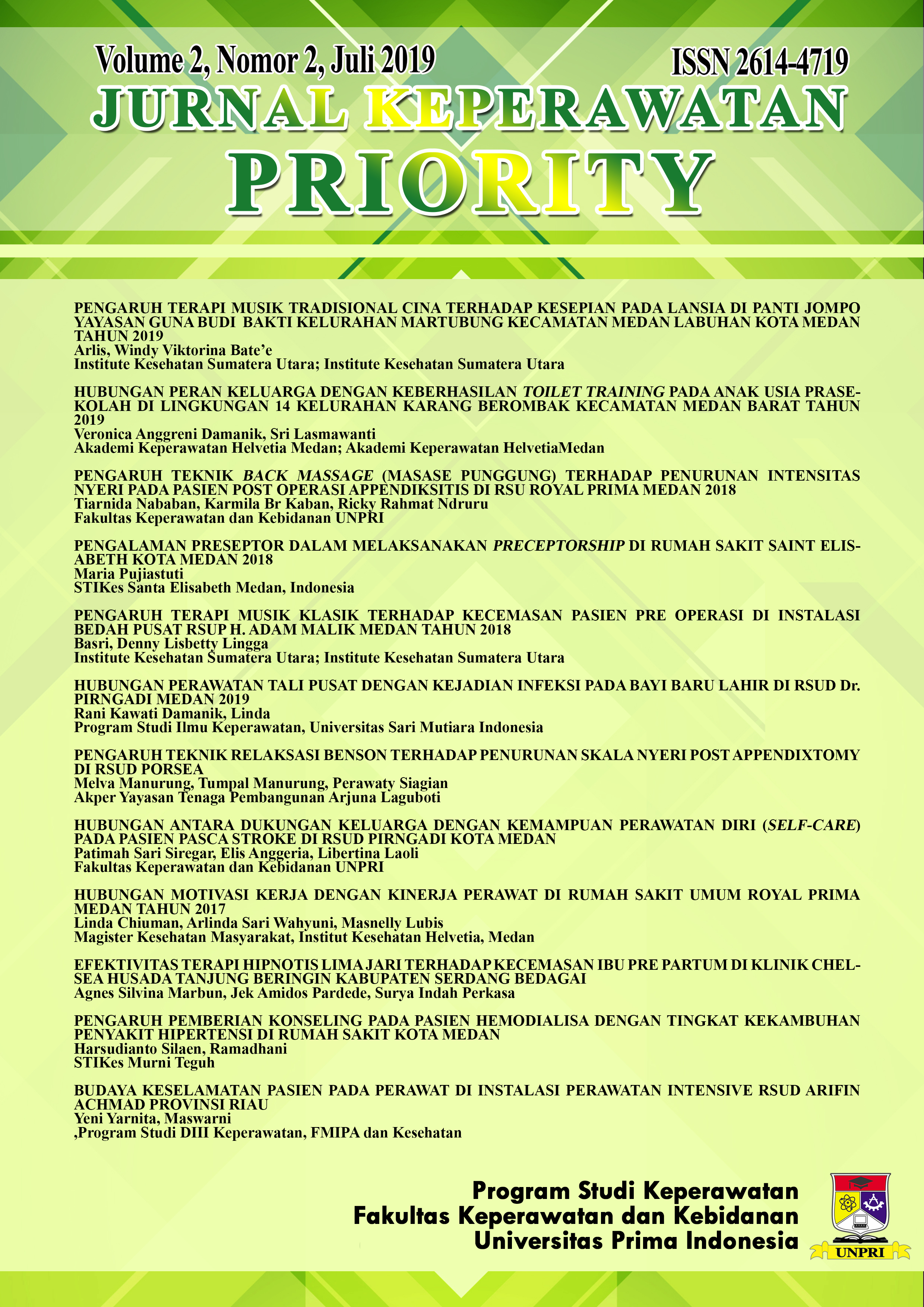 Downloads
How to Cite
Damanik, V. A. (2019). HUBUNGAN PERAN KELUARGA DENGAN KEBERHASILAN TOILET TRAINING PADA ANAK USIA PRASEKOLAH DI LINGKUNGAN 14 KELURAHAN KARANG BEROMBAK KECAMATAN MEDAN BARAT TAHUN 2019. Jurnal Keperawatan Priority, 2(2), 15 - 24. https://doi.org/10.34012/jukep.v2i2.540