PENGARUH PEMBERIAN KONSELING DENGAN TINGKAT KECEMASAN PADA PASIEN PEMASANGAN CHEMOPORT YANG MENJALANI KEMOTERAPI DI RUMAH SAKIT KOTA MEDAN
Keywords:
Counseling, Anxiety, Chemoport Installation
Abstract
One of the side effects of chemotherapy using a needle that cancer patients undergo is inflammation of blood vessels. To reduce this effect you can use chemoport. For treatment, patients must control within the first week after chemoport installation until the wound is dry. Furthermore, you need to clean the device about 1.5 - 2 months. "Treatment is by inserting needles and special substances for about 15 minutes in the hospital and carried out by experts such as nurses and doctors. It is necessary to provide education and counseling for the installation of invasive equipment to patients undergoing chemotherapy so that patients do not experience anxiety This study aims to determine the relationship between the duration of new chemotherapy and the anxiety level of new chemotherapy patients in Medan City Hospital. The type of this study is quantitative with a quasi-experimental design. The sample used in this study amounted to 42 people and the sampling technique was purposive sampling that is, the sample taking by the researcher comes to do the research and part of the sample is taken from the population. The data collection uses questionnaires and data analysis using the T-Test test. From the results of the study found the influence of giving counseling with anxiety levels in chemoport patients who undergo chemotherapy, obtained that the value of p value 0.00. It is expected that nurses will provide education and counseling to chemoport patients who undergo new chemotherapy so that patients feel comfortable and not anxious.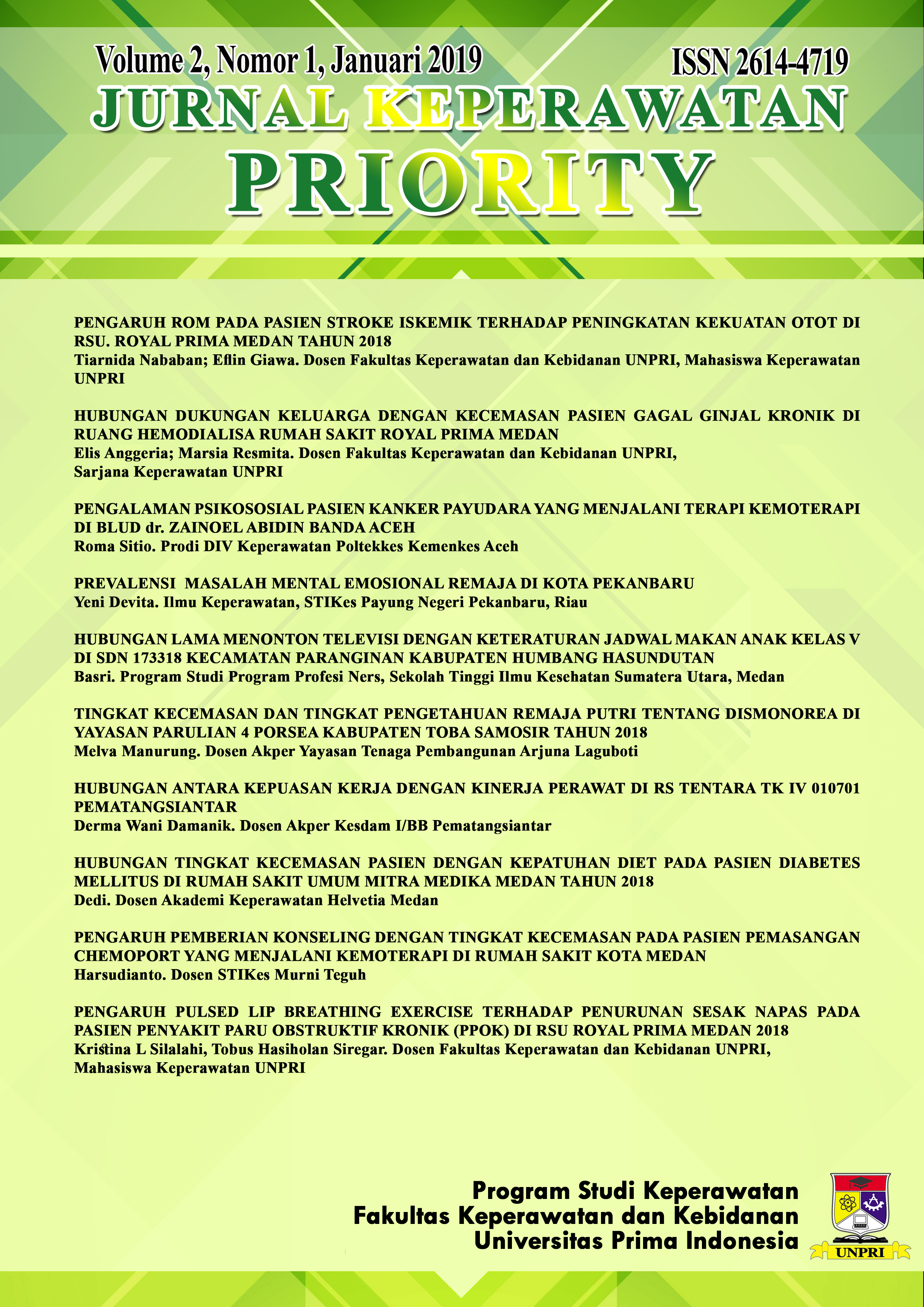 Downloads
How to Cite
Silaen, H. (2019). PENGARUH PEMBERIAN KONSELING DENGAN TINGKAT KECEMASAN PADA PASIEN PEMASANGAN CHEMOPORT YANG MENJALANI KEMOTERAPI DI RUMAH SAKIT KOTA MEDAN. Jurnal Keperawatan Priority, 2(1), 86 - 92. Retrieved from http://jurnal.unprimdn.ac.id/index.php/jukep/article/view/390