PENGARUH ROM PADA PASIEN STROKE ISKEMIK TERHADAP PENINGKATAN KEKUATAN OTOT DI RSU. ROYAL PRIMA MEDAN TAHUN 2018
Keywords:
ROM, Muscle Strength, Ischemic Stroke
Abstract
Range of Motion is one part of rehabilitation that has a large role to restore the ability of the patient to move back, meet their daily needs, until returning to work. The effect of ROM on Ischemic Stroke Patients on Muscle Strength Enhancement Royal Prima Hospital in 2018. This is a descriptive analytic research with case control design where both variables were tested simulataneously to determine the relationship between the two using test data analysis Wilcoxon. This research was conducted on 6-11 June 2018, using primary data. The population in this study were all who did ROM exercises who experienced an ischemic stroke at the RSU. Royal Prima Medan and the patients were treated with saturated sampling technique. the number of samples in this study were 5 people. There is a significant relation between ROM and muscle power on ischemic stroke patients at Royal Prima Hospital Medan in 2018 with a p-value of 0.059. The study concludes that there is an effect of ROM on increasing muscle strength of stroke patients at Royal Prima hospital Medan in 2018. The major problem of the problem of the disease is that it causes physical disability if not treated quickly and the disease can change lifestyle well by doing physical exercise regularly.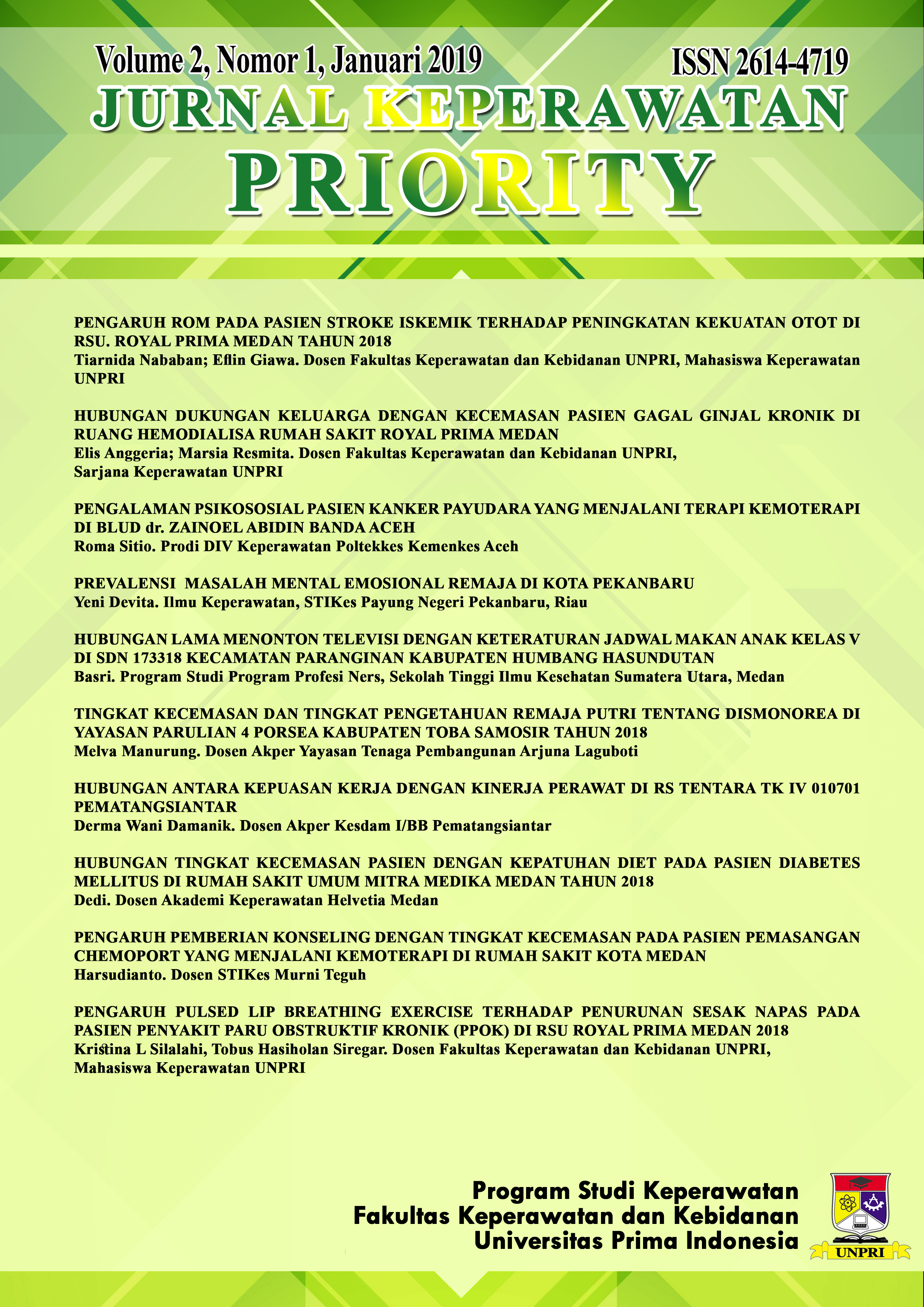 Downloads
How to Cite
Nababan, T. (2019). PENGARUH ROM PADA PASIEN STROKE ISKEMIK TERHADAP PENINGKATAN KEKUATAN OTOT DI RSU. ROYAL PRIMA MEDAN TAHUN 2018. Jurnal Keperawatan Priority, 2(1), 1 - 8. Retrieved from http://jurnal.unprimdn.ac.id/index.php/jukep/article/view/382