HUBUNGAN POLA HIDUP DENGAN HIPERTENSI PADA PASIEN HIPERTENSI DI LINGKUNGAN III SEI PUTIH TIMUR II WILAYAH KERJA PUSKESMAS RANTANG MEDAN
Rotua Sumihar Sitorus

Universitas Prima Indonesia
Abstract
Patterns and lifestyles in the community such as being overweight due to lack of exercise, smoking at the age of 40 years into the causes of impaired blood pressure so it does not smoothly circulate throughout the body. It becomes the cause of high blood pressure or hypertension is often referred to. The purpose of this study to determine the relationship of lifestyle with hypertension in patients with hypertension in the Environment III Sei East White II Puskesmas Rantang Medan 2014. This research is analytic survey with cross sectional design. The population in this study were all patients with hypertension in the third as many as 30 people. The samples in this research is to use a total sampling of 30 people. The results of the study based on the age of the calculation results obtained are X²hitung 8.892> 5.591 X²tabel then Ha accepted. Based on the results of the calculation of the weight gained is X²hitung 0.436 <X²tabel 5.991, then Ha rejected. Based on the obtained results of the calculation are smoke X²hitung 18.182 <X²tabel 16.919, then Ha accepted. The conclusion is that there is a relationship between the age and rerokok against hypertension and no correlation between body weight against the occurrence of hypertension in the Environment III Sei East White II Puskesmas Rantang Medan Year 2014. It is expected for the elderly in order to improve healthy lifestyles and exercise reduce fatty foods in order to prevent the occurrence of hypertension.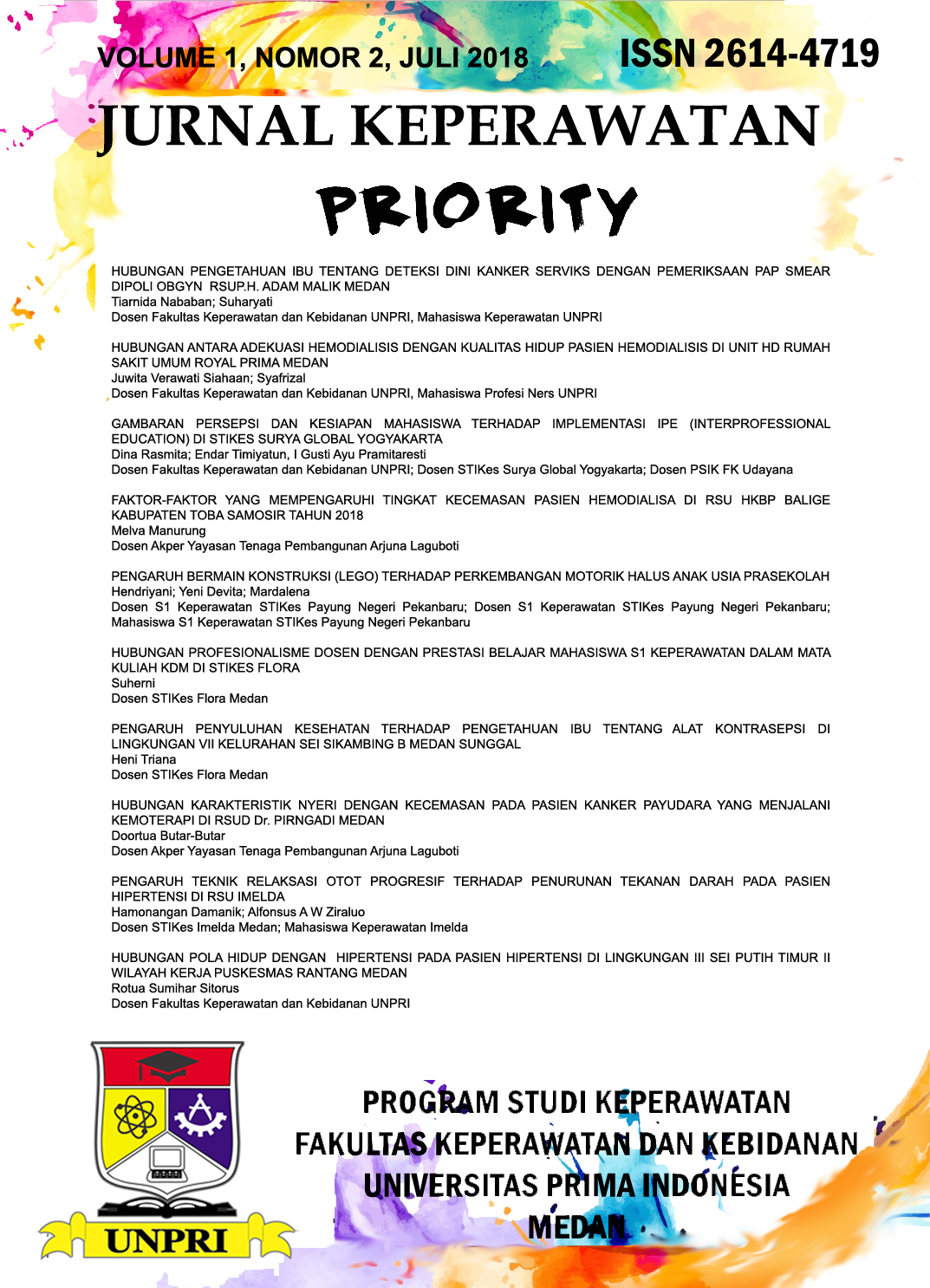 How to Cite
SITORUS, Rotua Sumihar. HUBUNGAN POLA HIDUP DENGAN HIPERTENSI PADA PASIEN HIPERTENSI DI LINGKUNGAN III SEI PUTIH TIMUR II WILAYAH KERJA PUSKESMAS RANTANG MEDAN.
Jurnal Keperawatan Priority
, [S.l.], v. 1, n. 2, aug. 2018. ISSN 2614-4719. Available at: <
http://jurnal.unprimdn.ac.id/index.php/jukep/article/view/194
>. Date accessed: 02 june 2020.