Perencanaan Srategis Sistem Informasi Pariwisata menggunakan Framework Cobit 5
Studi Kasus : Dinas Kebudayaan dan Pariwisata Provinsi Jambi
Keywords:
Strategic planning, Department of culture and tourism, Cobit 5 Framework
Abstract
Failure to plan the utilization of Information Systems and Information Technology results in organizations/institutions facing a relatively high increase in financial expenses. Advances in information technology make Information Systems and Information Technology have an important role for the running of an organization today. Information system strategic planning is needed that is aligned with organizational goals that are in accordance with organizational needs and can provide benefits. Strategic planning must be in accordance with the needs of activities and organizational goals. This research was conducted using the Cobit 5 Framework with the Ward and Peppard method by applying several stages of analysis. It is known that the priority of the BSC Cobit 5 Dimension sequentially is financial, learning and growth, internal and costumer. While TI's goal of the cobit 5 process, number 7 gets the first priority where the processes that are the first order are EDM04, APO01 and APO07 and so on.
References
Abidin , N., & Samopa , F. (2016). PERENCANAAN STRATEGI SI/TI DI PERGURUAN TINGGI MENGGUNAKAN COBIT 5 DAN WARD AND PEPPARD (STUDI KASUS:UNIVERSITAS AIRLANGGA). Jurnal Sistem Informasi, 5, 612-628.
TEKNOKOMPAK, Vols. Vol 15, no -1, (2021), pp. 79-91, 2021.
Tata Sutabri, T.S. (2023). Design Of A Web-Based Social Network Information System. International Journal of Artificial Intelligence Research, 6(1), 310-316.
T. Sutabri, Konsep Sistem Informasi, Penerbit ANDI, 2016.
Rike, S., & Sutabri , T. (2023, Aoril). Perancangan dan Pengukuran Kualitas Model User Interface Website Asosiasi Profesi Fotografi Indonesia Sumatera Selatan dengan Metode Webqual. Jurnal JUPITER, 15, 691-703.
Sutabri, T., Wijaya, A,. Seprina, I., & Amalia, R. (2023). Ticket Reservation System Design With Web-Based. International Journal Of Artificial Intelligence Research, 6(1.1).
Elvina, M., Rudianto, C., & Chernovita, H. P. (2019). PERENCANAAN STRATEGIS SISTEM INFORMASI MENGGUNAKAN METODE WARD AND PAPPERD (STUDI KASUS: DINAS KEPENDUDUKAN DAN CATATAN SIPIL KOTA TOMOHON). SEBATIK, 604-610.
Elfandiar, R., & Sutabri T, T. (2023). Analisis IT Service Management (ITSM) Sistem Keuangan Desa (Siskeudes) Menggunakan Framework ITIL V3 (Studi Kasus: Kecamatan Sungai Lilin). NUANSA INFORMATIKA, 17(1), 162-168
Adikara, F. (2013). Implementasi Tata Kelola TI Perguruan Tinggi Berdasarkan COBIT 5 Pada Laboratorium RPL, 2–4.
Maskur, Adolong, N., & Makodongan, R. (2017). IMPLEMENTASI TATA KELOLA TEKNOLOGIi INFORMASIi MENGGUNAKAN FRAMEWORK COBIT 5 DI BPMPTSP Kota BONE BOLANGO. Masyarakat Telematika dan Informasi, 8, 109-126.
Payong, Y, Evaluasi Tingkat Kematangan Tata Kelola Teknologi Informasi pada Layanan Informasi Publik dan Pengaduan Masyarakat PemerintahKota Kupang menggunakan COBIT 4.0 Jurnal Inovasi Kebijakaneissn : 2548-2165 Volume V, Nomor 2, 2020 hal. 35-54.
M. P. Islamiah, "Tata Kelola Teknologi Informasi Menggunakan Framework Cobit 5," Uin Syarif Hidayatullah, Vol. 5, P. 303, 2014.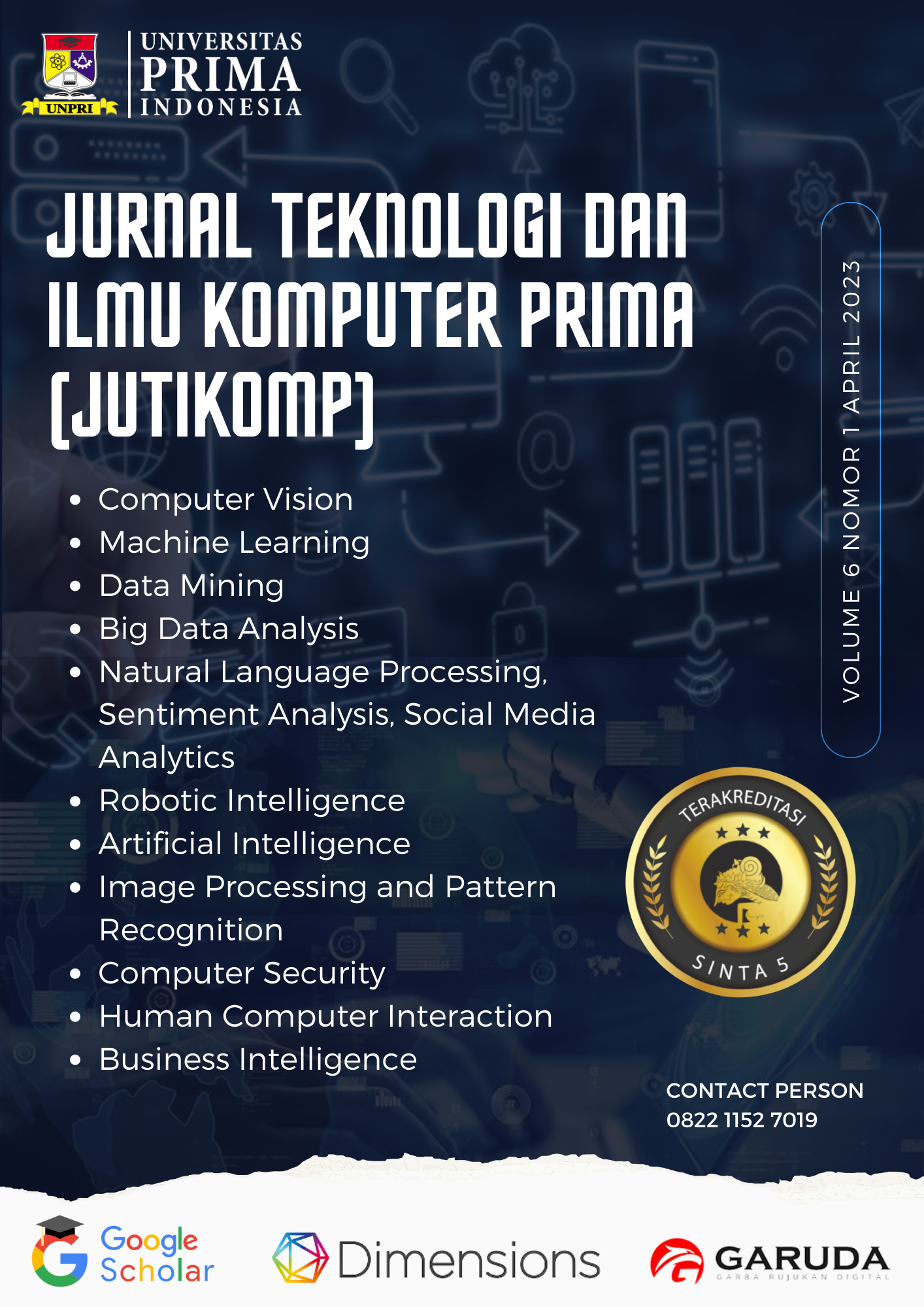 Downloads
How to Cite
Novitasari, D. ., & Sutabri, D. T. . (2023). Perencanaan Srategis Sistem Informasi Pariwisata menggunakan Framework Cobit 5: Studi Kasus : Dinas Kebudayaan dan Pariwisata Provinsi Jambi. JURNAL TEKNOLOGI DAN ILMU KOMPUTER PRIMA (JUTIKOMP), 6(1), 23-32. https://doi.org/10.34012/jutikomp.v6i1.3607
License
Copyright (c) 2023 Dewi Novitasari, Dr. Tata Sutabri
This work is licensed under a Creative Commons Attribution-ShareAlike 4.0 International License.
Hak Cipta atas naskah-naskah karya ilmiah di dalam Jurnal ini dipegang oleh Penulis.
Penulis menyerahkan hak saat pertama kali mempublikasi Naskah karya ilmiahnya dan secara bersamaan Penulis memberikan izin/lisensi dengan mengacu pada  Creative Commons Attribution-ShareAlike 4.0 International License kepada pihak lain untuk menyebarkan karya ilmiahnya tersebut dengan tetap mencantumkan penghargaan bagi penulis dan Jurnal Teknologi dan Ilmu Komputer Prima sebagai media Publikasi pertama atas karya tersebut.
Hal-hal yang berkaitan dengan non-eksklusivitas pendistribusian Jurnal yang menerbitkan karya ilmiah penulis dapat diperjanjikan secara terpisah (contoh: permintaan untuk menempatkan karya yang dimaksud pada perpustakaan suatu institusi atau menerbitkannya sebagai buku) dengan Penulis sebagai salah satu pihak perjanjian dan dengan penghargaan pada Jurnal Teknologi dan Ilmu Komputer Prima sebagai media publikasi pertama atas karya dimaksud.
Penulis dapat dan diharapkan untuk mengumumkan karyanya secara online (misalnya pada Repositori atau pada laman Organisai/Institusinya) sejak sebelum dan selama proses pengumpulan naskah, sebab upaya tersebut dapat meningkatkan pertukaran citasi lebih awal dan dengan cakupan yang lebih luas.